Bauhaus: Fine Art, Photography and Design
Event Details
Date:
On Demand
Location:
Online
Price:
Course Registration $40.00 Members
$50.00 General Admission


In this recorded webinar, Sabine Wilson, Ph.D, AAA, Sarah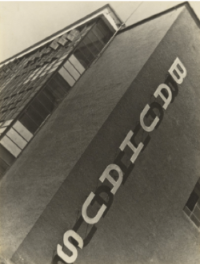 Morthland, AAA and Christina Japp, AAA will present an overview of the Bauhaus that will include fine art, photography and design.
First, Sabine Wilson, Ph.D., AAA, will discuss the Bauhaus Manifesto and Vorkurs with color theory and the grid system, which had an important influence on artists of the next generation. She will also talk about the teachings and art of Bauhaus masters including Johannes Itten, Gerhard Marcks, Lyonel Feininger, Paul Klee, Wassily Kandinsky and Josef Albers.
Next, Sarah Morthland, AAA, will use photographs to "set the scene," providing illustrations for a quick overview of the timeline of the Bauhaus (1919 – 1933), its underlying premise, and associated teachers and students. Concurrently, the photographs illustrating this section will be addressed as discrete works of art, with discussion about the makers, print characteristics, and market value. The segment will end with an
overall discussion of the marketplace for Bauhaus photography.
In the final segment, Christina Japp, AAA, will discuss the influence of Bauhaus on today's design. Christina will address various workshops and the different masters, including Marcel Breuer, Walter Gropius, Erich Diekmann, Mies van der Rohe, Laszlo Moholy-Nagy, Wolfgang Tuempel, Otto Lindig, Theodor Bogler, Marguerite Friedlaender and Gunta Stölzl. Christina will examine Marianne Brant's role and success as a woman in the typically male-dominated metal workshop, and discuss the sale that she handled at Sotheby's of Marianne Brandt's iconic MT49 teapot, as well as pricing for various Bauhaus design works.
2 CE Credits

*Please note this is a recording of a previously held live webinar.
Register online (at the top of this page) or by calling 212.889.5404 x 11.
Email confirmations will be sent upon receipt of payment; registration accepted only with payment. No refunds.
Image: Iwao Yamawaki, Bauhaus FaÇade, 1931, Gelatin silver print
---

Christina Japp, AAA, President and Founder Christina Japp Art and Design, INC., is a New York City-based independent fine art and design appraiser and advisor with more than 20 years experience, including 15 years with Sotheby's as Vice President and Senior Specialist. Her expertise encompasses all aspects of 20th Century and Contemporary Collectible Design; Impressionist and Modern Art; and Post-War, Contemporary, and Emerging Art.

As she is certified with the Appraiser's Association of America (AAA), holding specializations in Post-War, Contemporary, and Emerging Art and 20th Century Decorative Art and Design she is also compliant with the USPAP standards.

In the past she's shared her extensive experience and worked in tandem with Alpha Art Funding (formerly AOI Advisors LLC), Borro Art Finance, Chubb Limited, O'Toole and Ewald Art Associates, and Winston Art Group, among others, to author appraisals and provide valuations for important collections and properties on both a domestic and international level.

Today her advisory and appraisal business caters to an international roster of private clients, corporate collections, museums, and more.

Photo: Anastassios Mentis, Mentis Studio NY
Sarah Morthland, AAA, is the founder and principal appraiser of ACM Services, a firm based in New York City that specializes in appraisals of 19th – 21st century photographs and photographic literature. She served as the director of Howard Greenberg Gallery and Gallery 292, Soho, before establishing Sarah Morthland Gallery in Chelsea in 1996, now a private dealership. She began her career as a fine art photographer and maintains a particular interested in Eastern European photography of the interwar period.
Sabine Wilson, Ph.D., AAA received her doctorate degree in art history from the Ludwig–Maximilians-Universität, Munich, Germany. Since 2000, Sabine has had an independent fine art appraisal and advisory practice in New York where she advises clients on issues concerning valuation, provenance, and collecting of impressionist, modern, and contemporary art. She gives lectures and publishes on art forgery, German art between the wars, and French 18th century art. Ms. Wilson is a Certified Member and serves on the Board of Directors of the Appraisers Association. She is also a Board-Certified Instructor of Uniform Standards of Professional Appraisal Practice and an Adjunct Instructor at New York University's School of Professional Studies.
---
Go back