19th C. Drawings & Paintings
Event Details
Date:
On Demand
Location:
Online
Price:
Course Registration $10.00 Members
$20.00 General Admission


Join us online for our June lecture! Polly Sartori, Director of Gallery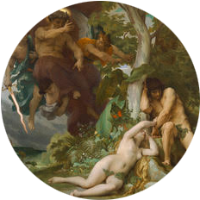 19C, will discuss the ever-changing market for this category and how it has evolved and where it is now. It was one of the richest 100 years in the history of Western art, a century characterized by diverse Schools, artists, styles and subjects. It was a moment of unprecedented artistic creativity and innovation competing with a system deeply rooted in traditional instruction. Topics to be discussed will range from evaluating the great 19th century Academic painters, such as William Bouguereau to the more avant-garde artists like Gustave Courbet. We will shift focus outside the more well-known French Impressionists and discover something new.
This is a recording of a previously held lecture.

1.5 CE credits
Sponsored by:

If you have previously registered for this lecture or the full series,
you do not need to re-submit payment or registration information.

Register online (at the top of this page). Registration is accepted only with payment. NO REFUNDS.
Image provided by Gallery 19C: Alexandre Cabanel (French, 1823-1889) - Le Paradis perdu (Paradise Lost), 1867
---
Polly Sartori is a specialist in 19th Century European paintings, drawings

and watercolors. After graduating from Wells College with a BA in Art History, she moved to New York City and was hired as an Assistant in the Department of European Paintings at The Metropolitan Museum of Art. While working full-time at The Met, she also studied at The Institute of Fine Arts of NYU, receiving her Masters Degree in Art History.

In 1984, Polly was hired as a specialist in the 19th Century European Paintings Department at Christie's in New York. She was promoted to Head of the Department in 1986, and became a Senior Vice President in 1993 and Senior Director of Impressionist and 19th Century European Art in 1998. During her tenure at Christie's, she was responsible for organizing over 50 auctions for 19th Century European Paintings.

In 2000, Polly left Christie's for Sotheby's New York, where she was a Senior Vice President and Head of Department for 19th Century European Art. In her role, she organized over 40 auctions and under her direction, Sotheby's 19th Century European Art sales achieved over $600 million, which included the highest auction total ever realized in this category ($60 million) and highest price ever paid for a single painting ($36 million). Both records were set in November 2010. In February 2016, excited to embark on a new phase in her career, Polly left Sotheby's to join Eric Weider in the formation of Gallery 19C. One of the gallery's first sales was Paradise Lost by the French Academic painter, Alexandre Cabanel, which was purchased by the Musée d'Orsay
Polly lectures about 19th Century European Art, the art market and collecting. She has appeared as a specialist/appraiser on the Antiques Roadshow, the PBS series produced by WGBH, Boston.
---
Terms of Registration
By registering for this lecture you acknowledge that the content of this program will be captured in digital format and may be used for both archival and promotional purposes. Submission of your registration authorizes The Appraisers Association of America, its contractors and sponsors permission to use your voice and/or image in any such archival or promotional recording, photograph or streaming activity and to contact you by mail or e-mail.
---
Go back
Upcoming Events